When you're making an investment as significant and visible as new signage or stationery, it has to be done right the first time. That is why businesses have turned to Nifty Pixy Designs in Bowmanville Ontario since 2006. We have been a resource for companies who wish to project a first class image to customers and prospects.
Nifty Pixy Designs president has been helping businesses project a first class image since 1976. At Nifty Pixy Designs we strive on producing the best quality product for each and every one of our customers. With our full service design and manufacturing, we specialize in the fabrication of Stationery, Business Card Magnets, Vehicle Magnets, Vehicle Graphics, Pylon Signs, Store Signage Indoor & Outdoor, Vinyl Graphics, Full Colour Digital Prints and Banners, A-Frames of all kinds and much more.
Nifty Pixy Designs consults with clients to make the experience of buying a product, easy, clear and thoroughly satisfying. We are able to do this through providing outstanding service, exceptional quality, quick turnarounds and competitive pricing.
As you look across the business landscape throughout the Durham Region, you'll find more and more companies trusting their good name to ours. We invite you to do the same.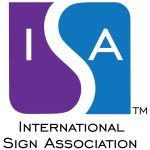 Member of the International Sign Association